Scissor Lift Requalification Package
SKU: RE-PKG-AWP
Are you an IVES Certified Trainer? Please login for accurate discount Member pricing and product availability.
$123.00
| Quantity | Price |
| --- | --- |
| 1 - 4 | $123.00 |
| 5 - 9 | $117.00 |
| 10 - 24 | $111.00 |
| 25+ | $105.00 |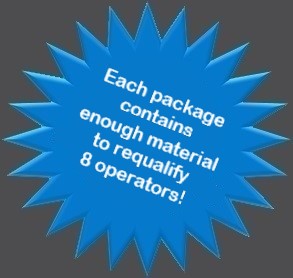 Need to requalify your scissor lift operators? Our Scissor Lift Operator Requalification Package will help you get the job done!
Each package contains all the documentation you need to requalify eight operators, including:
(8) Scissor Lift Study Guides
An excellent reference for providing theory review for previously qualified operators. These workbooks are a condensed version of the original Operator Reference Manual. As the trainer leads the operator through a comprehensive review of the study guide, they will fill in the blanks while refreshing their knowledge.
(8) Scissor Lift Requalification Theory Tests
Designed to re-test the operator's knowledge of basic equipment theory
(1) Scissor Lift Requalification Theory Test Answer Key
Contains the correct answers for the theory test.
(8) MEWP Operator Practical Re-evaluation Forms
Grade and record the operator's practical demonstration of competence.
(8) Certificates of Completion
This 8 ½" x 11″ certificate contains the operator name, original qualification number, the requalification number, date of re-training and re-evaluation as well as the qualification expiry date. It also documents the type of equipment used and the trainer's name and qualification number.
(8) Operator Wallet Cards
This wallet-sized version of the Certificate of Completion and can be presented to the successful operator to carry on his/her person.
(8) Record Sheets
Record all the vital information for the employee file such as operator's name and requalification number; company name and location; type of equipment used including capacity and attachments; application and date of training; date and location of re-evaluation; theory test and practical re-evaluation results; trainer's name, qualification number and qualifications; and additional comments.
Volume discounting available for this product. Save 15% by ordering 25 or more - that's savings of over $16.00 per package! Login for accurate pricing and availability.
Parlez-vous français? ¿Hablas español? This product is also available in French and Spanish.
Order today! Place your order online or call 1-800-643-1144.
---
Did you know?
Employers and/or users of mobile elevated work platforms (boomlifts and scissor lifts) should offer additional upgrade or refresher operator training in the following situations:
The operator is observed to be operating the equipment in an unsafe manner.
The operator causes an accident or near-miss incident.
An evaluation of the operator indicates that additional training is required.
The equipment that the operator is assigned to operate is changed and/or modified (familiarization training required).
The environment that the operator works in is changed and/or modified.
Even if none of the items listed above happen, an evaluation of the operator's knowledge and skill is re­quired at regular intervals. The time interval between operator evaluations is dependent on the employers observation of the operator. However, adherence to a three year cycle would constitute diligent best practice.
Watch our video to learn more: